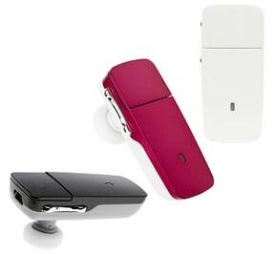 This is the CPW-603 Bluetooth Wireless Headset by Finnish company, Iqua. The headset was designed by Finnish design studio Salovaara & Salonen and combines a clean design with solid functionality.
The functions of the headset include: answering or ending a call, redial, voice dial, and the ability to switch between phone and headset using a single button. The CPW-603 gives you an operating range of up to 10 meters and the battery supplies up to nine hours of talk time and 200 hours of standby.
The headset is available in pearl white, charcoal or pink – to match the colors of LG KG800 Chocolate phone. The CPW-603 is exclusively available through the Carphone Warehouse, either as a stand-alone product or bundled with the iconic LG KG800.