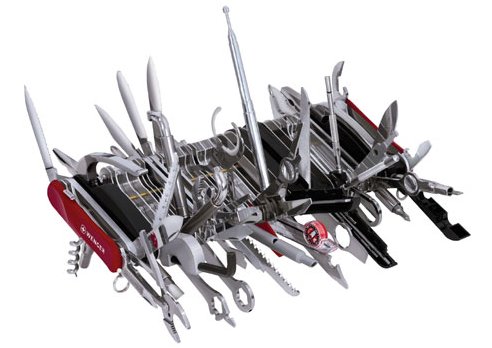 "Is that a knife in your pocket…?"
Wenger must have the kitchen sink in there somewhere with their V1.0 of the Giant Collector's Swiss Army knife. This knife contains all 85 tools currently offered by Wenger in their different Swiss Army knives which together constitute over 100 different functions.
These different tools include various types of blades, pliers, screwdrivers, saws and wrenches among other more unique tools such as a rivet setter for bicycle chains, a whistle, cigar cutter, laser pointer, tire tread gauge, and of course the toothpick, tweaser and keyring cannot be overlooked.
However impractical this particular knife might be due to shear size, this is a real offering from Wenger, and has the same quality that goes into all of their Swiss Army knife and other products, and comes with a lifetime warranty at a price of $1,200 USD.