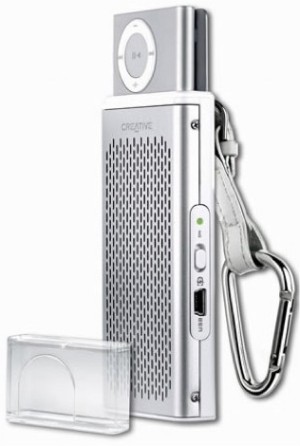 Take a look at this smooth looking Travelsound i50 iPod Shuffle dock/speaker from Creative. Mount a Shuffle on the top and clip it to your stuff to have a portable, rechargeable 2 channel 700mW speaker output wherever your go.
The i50 measures 128×47×15mm, weighs only 85g and is powered by an internal lithium polymer battery that charges via USB (and can charger your Shuffle at the same time) to give as much as 15hrs of continuous sound-sharing playback from the speaker dock.
The Travelsound i50 is currently selling in Japan for $69 each.
FarEastGizmos via Gizmodo