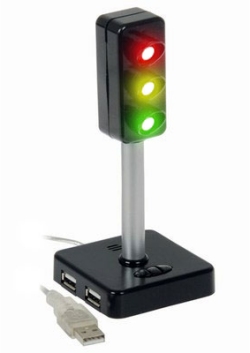 After already spending too much of my day behind traffic lights at intersections and at those metered ramps they have here in the Portland metro area the last thing I really want to see when I get to work is another traffic light on my desk. Unless of course I can use it to effectively stop or at least caution approaching visitors of my current status.
This USB traffic light doubles as a 4-port USB 2.0 hub and has a little switch letting you control the red yellow and green light for once, instead of it controlling you. As if that isn't enough from a $25 USB peripheral it also can record and playback a 10 second voice message and has a place to clip a memo pad and supposedly some type of screen cleaner. Huh…
Anyway, another one of those perfect gifts for the geek who has to have every type of cheap USB accessory available.