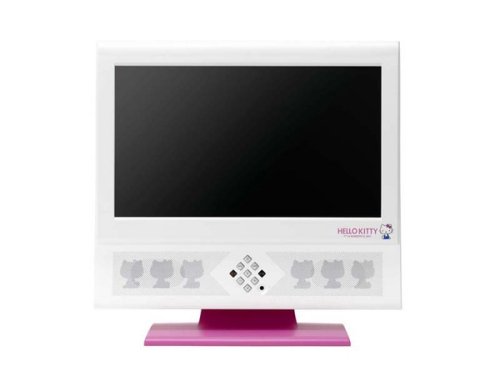 Listen, if your entire house is decked out in Hello Kitty items, that's your business. But it affects me too. Someone please think about the men. The innocent, unsuspecting men… Must all things lead to Pink Upchuck heaven? I think the main problem I have with it is that in about 2000 years, no one is gonna know who the hell Hello Kitty is, but they will be digging this stuff up and thinking we worship a pink feline goddess. Hmmm. I guess you kind of do, which is why I'm writing this. Okay, forget I said anything. I'll try to tell you about your new TV without gagging.
It's the TL19TX1 from Uniden. It's a 19-Inch TV with a resolution of 1440×810, and a contrast ratio of 1,000:1, brightness of 300cd/m², and response time of 5ms.
It also features a 1Seg Tuner, built-in speakers (3Wx2), and HDMI Interface. You can get it in two colors : Black & White and the price is 415€.