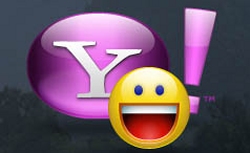 Yahoo CEO Jerry Yang on Monday shot back a letter in response to Microsoft CEO Steve Ballmer's 3-week ultimatum for Yahoo to come to negotiations with a firm message that Yahoo has not changed their tune in regards to Microsoft taking over the search engine. Ballmer's letter had spelled out plans for a proxy contest to unseat the exist Yahoo board of directors and that continued delays could reduce the $44.6 billion offer which would mean less for shareholders.
"Our board's view of your proposal has not changed," said Yang along with Chairman Roy Bostock. "We continue to believe that your proposal is not in the best interests of Yahoo and our shareholders."
Instead of going through the negotiations Yahoo has chosen to beat their exclamation points into swords and fight back against Microsoft. Yang continued in the letter stating that the offer and proxy contest would not be in the best interest of Yahoo and certainly not part of a friendly transaction as Microsoft first proposed.