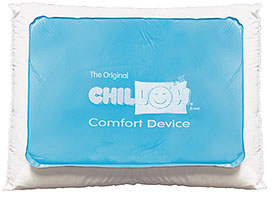 This is little sleep assisting gadget is called a Chillow from Soothsoft, a pillow that keeps you chilled. Even if it didn't work I like it for the name and the idea.
This chillow is designed to eliminate the need for you to flip your pillow over and over at night to find the cool spot. If only my pillow would stay cool, or chilled?
It's made out of some sort of foam or gel material, and you need to add water. There is no mechanical parts or electricity that keep it cool. You just insert it into your pillow case and it automagically draws heat away from your head and keeps it cool for hours.