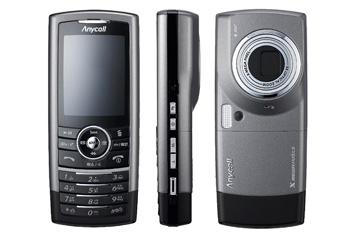 Samsung has been at the forefront of providing large picture quality with their camera phones, and the SCH-B6000 is not an exception.
Samsung is doing another first with releasing a 10 megapixel camera phone. With this new phone they have made it slight lighter and slightly thinner than their previously released 7 megapixel phone, but still managed to add more megapixels with camera features that rival other 10 megapixel cameras.
There is also a TV out jack on this camera phone to show still or motion pictures on a television, as well as a Digital Multimedia Broadcasting function built in to connect. The SCH-B6000 utilizes Bluetooth technology and supports the AnyCall band for providers.
SCH-B6000 Press Release [Samsung]