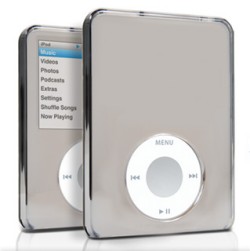 Griffin is Johnny-on-the-spot with advertising its new cases for latest version of Apple's iPods, with one of the coolest looking ones being a reflective case for the 3rd generation iPod Nano.
This case fits the new, fatter-style video nano and features a mirrored chrome-finish on the front. When the iPod is turned off it appears that the case has no window for the display with a seamless reflective face. When the iPod nano is powered on the display shines clearly through. The back of the Reflect case is a rubberized matte black to give it some grip and keep it from sliding around.
Of course this cool, reflective case from Griffin isn't quite available yet but promises to start shipping in in October with the entire new line of cases retailing between $20 and $35.