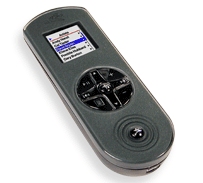 Keyspan has announced it has started shipping the TuneView for iPod. The TuneView is a 2-way RF remote control with a color LCD screen that lets you browse and fully control your Apple iPod.
The TuneView system consists of a 2-way RF remote with color LCD screen, a universal iPod dock, a USB power adapter, audio and USB cables, and various dock inserts. In addition to controlling your iPod the system will allow you to :
Connect an iPod to a stereo or powered speakers using the audio line out jack.
Connect an iPod to a TV using the S-Video jack.
Charge an iPod from an AC outlet using the USB Power Adapter.
Sync an iPod with iTunes running on a PC or Mac with the TuneView Dock.
Certainly there are other iPod remotes on the market, but the color LCD screen on the TuneView is a nice touch …