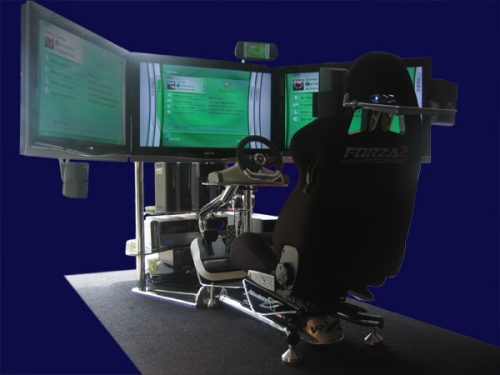 We've seen some pretty cool home-made gaming setups like this 200 inch projection with a PS3, but this VRX Triple Screen racing simulator is going to be pretty tough to beat.
VRX was not messing around when they designed this setup. Among a large number of other things it comes with 4 Xbox 360 Elites, 4 copies of Forza Motosport2, an Xbox HD DVD player, Xbox 360 camera, Xbox wireless headset, a Zune, MS Force Feedback Steering Wheel and 3 Sharp Aquos 37″ HD LCD displays. It also has built-in surround sound and vibration feedback to add to the realistic feel, not to mention a beverage holder.
There's no pricing posted for the 360-integrated triple-screen setup that launched just last month, but you can certainly send them an email to find out.
via Giz