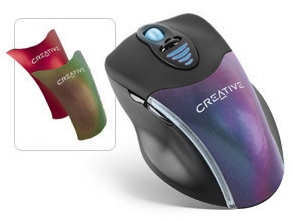 Now that you have your new gaming rig all tricked out, it's time to add some flair to your mouse. The Creative Mouse Gamer HD7600L lets your customize your mouse with three interchangeable "Game-On" covers.
The HD7600L also benefits from a resolution of 2,400 dpi with a tracking speed of 40 inches per second. Finicky gamers can adjust the dpi setting through the control switch to change instantly between 400, 800, 1600 and 2400 dpi for optimum speed, precision and accuracy.
The Mouse Gamer connects via USB and features EasyGlide Teflon Feet for ultra-smooth mouse action during all your high-stakes games. The Creative Mouse Gamer HD7600L is available now.
.