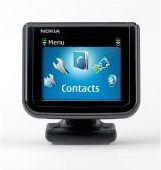 It looks like Nokia is getting ready to release an in-car Bluetooth product to provide the driver information on their Bluetooth enabled mobile phone while driving.
According to Crave the Nokia CK-15W Bluetooth Display Car Kit provides on-screen information to manage incoming and outgoing calls through the 2.2″ TFT display. The device is mounts on the dashboard at more of an eye level to keep drivers eyes more on the road and less looking down at their handset.
The CK-15W is expected to have some "handsome" looking menus and can download the entire Contacts list from your mobile phone to the device. The photo shows a graphical menu with what looks to be icons for Contacts, a Bluetooth connection, some synchronization function and a couple tools that may be used to configure the device.
No information …