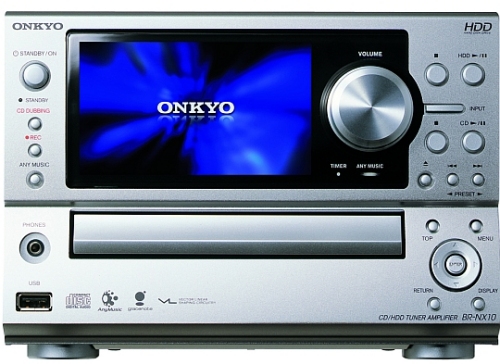 Onkyo has released a new compact home stereo system that's designed to integrate nicely with your digital music collection. The Onkyo BR-NX10 also has Sony's AnyMusic service built in.
The Onkyo home stereo holds an 80GB hard drive to store digital music, and with the CD player it allows playing or ripping of the audio disks to the hard drive. This device also has a USB port to transfer files from a PC and an Ethernet port to connect to the internet. Once connected users can browse, purchase and download songs from Sony's AnyMusic.
An FM Stereo tuner to allow recording the radio would be a nice feature in this package, however we didn't notice any controls or features for FM radio. The BR-NX10 from Onkyo is expected to retail for about €600 (~$780 USD).
Onkyo via Akihabara News