DVI
DVI (Digital Visual Interface) is standard connector type for computer video. Most modern graphics cards use DVI output and most LCD monitor and projectors now use a DVI input.
DVI has replaced VGA as the standard of choice. VGA was designed for CRT monitors. DVI is designed for maximum performance of digital video.
DVI is partially compatible with HDMI.
Below is a diagram of several types of DVI connectors: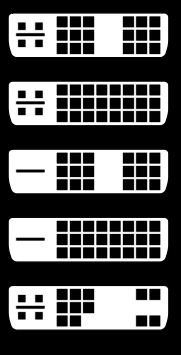 Related Articles