Cat 5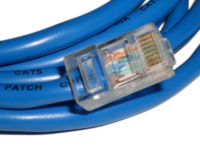 Cat 5, also known as Category 5, is a type of cable commonly used in computer networking applications like Ethernet, but can also be used for voice or other network types.
Cat 5e (Category 5e) is becoming more common as it provides better signal performance and is preferred over Cat 5 in gigabit Ethernet networking.
Cat 6 is the successor to Cat 5e and performs twice as well as Cat 5 and Cat 5e.
Related Articles