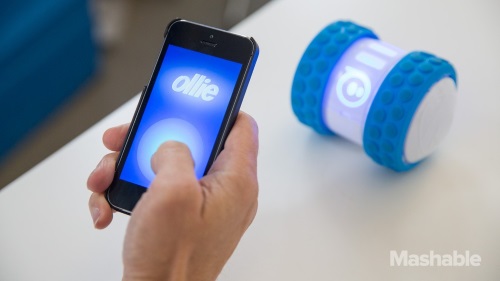 The company that gave us the Sphero, Orbotix, has come up with a new app controlled bot called Ollie. Ollie is similar to Sphero in that you can still control this bot with your iOS or Android device. 
Ollie can reach speeds up to 14mph and comes with two rubber tire covers that help maneuver through different types of terrain. These wheel covers come in different colors to help you customize your bot and you also have the option to purchase a limited addtion "goth-black" Ollie for a limited time. Ollie is programmable just like Sphero, so it can provide hours of entertainment.
A major difference is the shape. Ollie is cylindrical which gives it a different control capability and some are saying it is a bit tougher to control. Another difference is the way it is charged. Sphero is charged by induction charging and comes with a docking station, while Ollie is charged through a USB. It's range is 100 ft so it might be hard to keep up with going top speed.