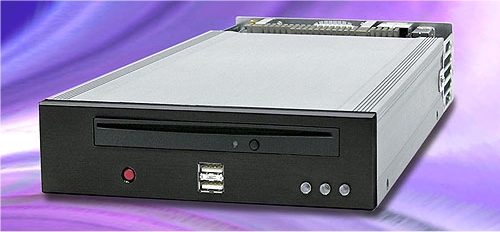 The PCS-8220 from Portwell is a proof-of-concept in-vehicle embedded PC infotainment system. The PCS-8220 supports your in-car entertainment needs with an integrated DVB-T/FM tuner, Bluetooth, WiFi, and GPS capabilities.
The unit also supports dual independent displays for CRT, LVDS or TV-out so that passengers in both the front and rear seats can view the different video. The PCS-8220 has six USB ports for versatile expansion into areas such as GPS navigation and other peripheral integration.
The system is based on the Intel ECX (Embedded Compact Extended) form factor and is designed to dissipate heat by using the air in the passenger compartment to reduce the internal temperature. The case also has shock absorbing pads and spring loaded fasteners to minimize shock on rough terrain. The unique power supply works with the ignition control to utilize DC power from the car battery.
The PCS-8220 debuted at the Fall …