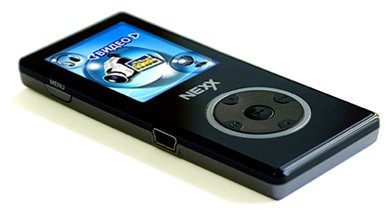 Coming off strikingly similar to the iPod Nano, the Nexx NF-810 is a slender Personal Media Player capable of playing your favorite music and video.
Measuring 39mm x 88mm x 7mm and weighing just 38 grams, the NF-810 is a handy multi-function device. In addition to its standard duties as a personal media player it operates as a JPEG photo viewer, FM radio, and voice recorder.
The NF-810 is capable of playing video in the form of SMV files and Nexx provides the necessary software to convert existing MPEG/WMV/AVI movies into SMV. The 1.66″ TFT screen is capable of 65k colors.
Other features include a multi-lingual interface and digital equalizer with battery life rated at ten hours.
While the NF-810 certainly borrowed a page from the Apple design book, it is a sharp-looking player packed with features.
Nexx will be offering the NF-810 in 512MB, 1GB, and …