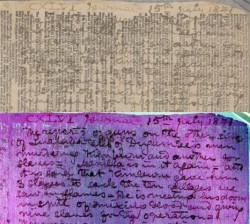 NBC News released an article about recent developments in multispectral imaging. Many scientists are working frantically to use this technology to reveal hidden texts, that within a few years could have easily been lost forever. It has already been used to uncover poems written by William Faulkner and maps potentially used by Columbus. This method has the potential to uncover many other pieces of music, Biblical gospels, and so many other writings that haven't been read for centuries.
Multispectral images are used to capture images and data at different frequencies across a spectrum. It uses different frequencies to reveal different forms of ink and materials. So when images are processed using this method, it reveals the writing that was previously thought to have been destroyed or damaged beyond legibility.
The NBC article states "The problem is that so few people are skilled in this kind of detective work. The equipment is fairly expensive — to build one from scratch might cost $100,000… With a dedicated group and a bit of grant money, however, it would just be a matter of time before these treasures were uncovered. If only there were time." As the documents sit and deteriorate in forgotten closets and cupboards scientists can only hope there's enough time to save them.
advancements, multispectral imaging, tech