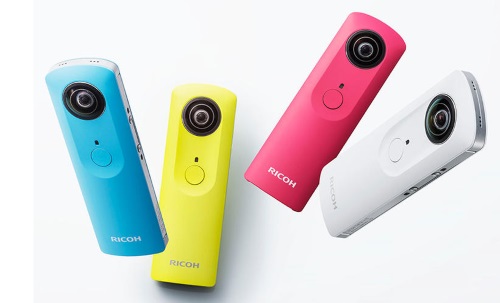 Ricoh's Theta M15 is a small, pocket size camera able to take seemeless 360 degree photos in a single snap. These photos don't just take a wide image, but include an entire 360 degree sphere, top to bottom as well. The resulting images can be viewed like other images, and Ricoh smartly provides some associated software with the camera allowing users to edit the images on a PC, Mac, Android or iOS device.
This is the second generation of the Theta that Ricoh has released with the most significant upgrade in this model being the ability to take short videos with a 360 degree view along with still images. The videos can be up to 3 minutes each, and the videos can also be edited with the included software by modifying the image itself with your finger on touch screens or your mouse.
Ricoh has also announced that they are providing an SDK for the camera so that developers can create custom applications integrating the Theta M15. The Ricoh Theta M15 is available on Amazon for $299.
360, 360 degree camera, camera, ricoh, theta