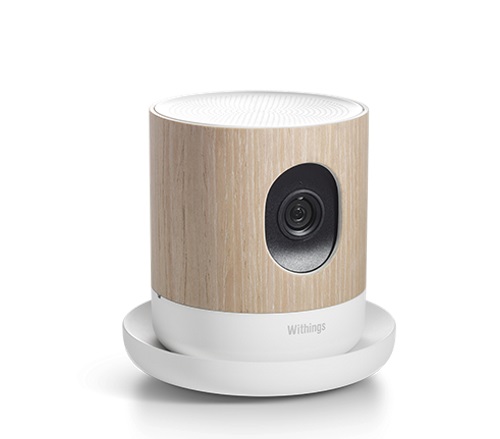 Withings, creator of wireless smart devices centered around health, has an interesting HD camera called Home for use in, well, your home. On the surface the design is a little more appealing then most home automation cameras we find on the market today with a wood grain finish, but it has a few extra features not common in your run-of-the-mill home-monitoring.
For starters, its got a 5 megapixel HD camera that can record video and take still pictures, and connects via WiFi to be viewed through a mobile app. It also has motion and noise sensors and will send a short video of the current happenings to a server in the cloud when these events occur. So, not too far off of the standard yet.
What starts to set the Withings Home apart from other home cameras is that it will automatically create 2 days worth of events in a diary for you to review based off of alerts from noise and motion in its 135 degree viewing angle.
What sets it even further apart is something Withings calls a Volatile Organic Compound (VOC) sensor which checks and alerts for air contaminants. What kind is not immediately clear, however. It also has sensors for temperature and humidity, and will send alerts if either get out of range, bringing us back to the Withing focus on health.
The Home is not available quite yet, but you can sign up to be notified when it is. Or, you can watch for us to notify you since we signed up. They show a price of $219.95 and claim that it will be integrated with the Apple's HomeKit platform.
camera, Home, home automation, home security, Withings