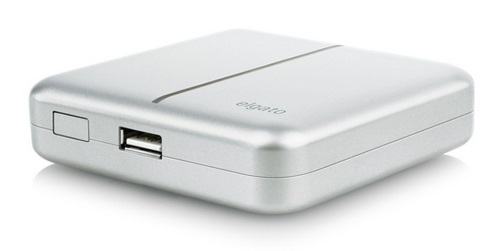 Elgato has released a smart charger to go along with your smart phone with the Smart Power portable charger. This portable charger will connect to your iPhone via Bluetooth and an iOS app and provide information on the portable charger's status whereabouts.
The actually charging still happens through a USB cord and the Smart Power holds enough juice to charge or iPhone 3 times. It can also charge other mobile devices with a USB connection. What sets this product apart is that it lets you know how much battery is left in it through the iOS app interface and will give you a reminder to plug it in and charge it up before you go places. Given access, the app can also be integrated with your calendar to identify busy days that you would be reminded to bring the portable charger along.

Some nice additional features provide information of how many charges are left, and when the SmartPower is charging it will tell you how long until it's fully charged. It will even play a sound when prompted by the associated app if you are having trouble finding it.
The Smart Power charger has a 6000 mAh capacity and delivers an output current up to 2.4 amps through USB. It measures 3.3 x 3.3 x 0.9 inches and weighs in at a little over 5 ounces. The iOS app is available on the App Store and the device goes for $99.95 USD. According to the website will be "coming soon".
Chargers, Elgato, portable charger, smart charger, smart power