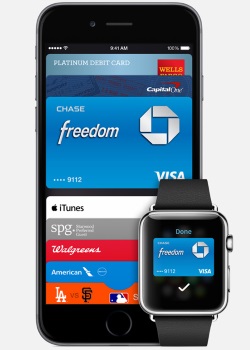 One of the major announcements coming out of Apple's meeting on Tuesday was another anticipated technology from both retailers and consumers called Apple Pay. This feature will be built into the iPhone 6 coming later this month and the Apple Watch being released early next year.
Apply Pay will build on the Passbook app and will incorporate a near field communication (NFC) antenna allowing consumers to pay at the counter by a simple tap. The iPhone 6 will also incorporate Touch ID to get the fingerprint of the consumer for added security and Apple also included something called the Secure Element, which is a dedicated chip to store encrypted payment information on the device.
In order to help with adoption, which has been difficult with this type of technology in the past, Apple is making it easy to incorporate your credit card into the system by simply importing it from your iTunes account or adding it in by scanning your physical card with the iSight camera.
Apple says Apple Pay will work with American Express, Mastercard, and Visa and already has a number of partners including Macy's, Walgreens, McDonalds. Disney and Subway. The company also stated the system works with the top bank issuers to handle 83% of the current credit card purchase volume. Apple has also announced the release of a development API for Apple Pay so the technology can be integrated into applications.
Apple is releasing Apple Pay in a software update being released in October and will only be available in the US to start.
Apple, Apple Pay, Apple Watch, iPhone, nfc