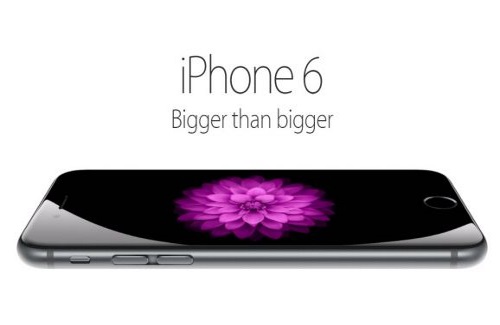 We are pretty sure the world stopped spinning Tuesday Sept, 9th in order for everyone to hear the latest news from Apple. They have officially announced that they are releasingApple Watch in early 2015 and the iPhone 6 later this month. No big shockers here.
What was a bit of a shock however was that Apple was taking a step forward by upgrading the physical size of the iPhone. There will be two different sizes; the 6 will get you a 4.7 inch screen while the 6 Plus will get you a 5.5 inch screen. They have also slimmed it down again from the 5, and it will now be one of the slimmest smart phones on the market.
Most of you in today's social media world want us to cut right to the chase about the camera. It is still the same 8MP rear facing camera, but the new version has a wide angle iSight lens, an auto focus feature that is 2x faster than its predecessor, f/2.2 aperture and greater noise reduction.
The front facing camera was also upgraded a bit. It will now allow you to FaceTime in HD and it will let in 81% more light to make sure you are not in the dark in broad day light.
The iPhone 6 and iPhone 6 Plus will come with the iOS operating system already installed on the devices.
The release day is set for next Friday September 19th. The cost for a SIM-free phone starts at $649, while with a 2 year contract with most carriers it is starting at $199.
If you get an iPhone 6 next week please comment to let us know how you like it!
Apple, iphone 6, iphone 6 plus, smartphones