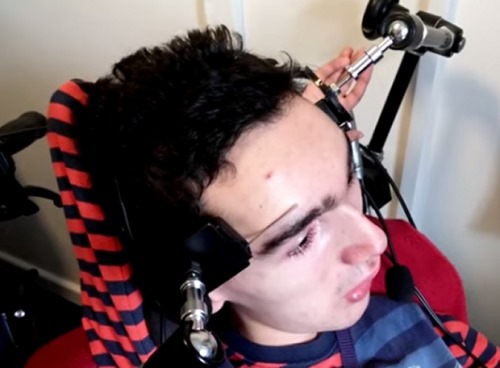 We love to see when people use technology for the greater good. The guys over at Technabob posted this story that is a must read and should put a smile on your face.
The guy you see in the picture above is Alex, and he suffers from a disease known as spinal muscular atrophy. This disease has made it difficult for Alex to hold and use a controller to play his favorite video games.  He is an avid gamer, so you must realize how frustrating that would be.
Bring on the guys at Special Effect UK. Special Effect is a non-profit organization in the UK that helps gamers with disabilities. Since Alex has trouble holding and using a controller they decided to have him use is eyebrows. Yes, you read that right, eyebrows. An Occupational Therapist developed a device for Alex, all he has to do is move his right or left eyebrow up or down to play some of his favorite games.
Watch the video of Alex playing  game of Minecraft with his eyebrows and have a great day!
charity, computer gaming, disabled, minecraft