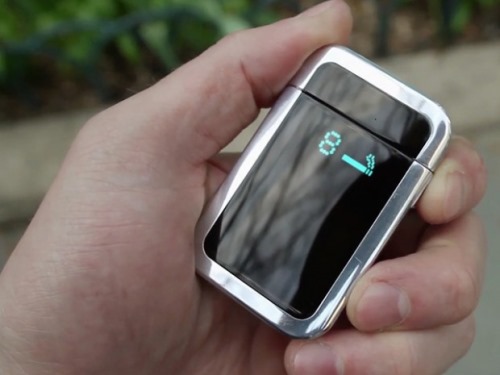 Ok, this is probably one of the coolest ways to help you quit smoking we have seen.  The Quitbit lighter is much like all the wearable fitness trackers out there, only this one keeps track of something completely different; your smoking habits.
While it does help you light up those cigarettes that you are trying to quit, it's a constant reminder that you are trying to quit. It keeps track of how many cigarettes you've smoked and also tells you how long since your last one right on the device. But when paired with the Quitbit app, you can also find out how much money you've saved, set the number of cigarettes you want to allow for the day and it can even lock the lighter so you cannot use it. Its battery life is about 100 lights or approximately one week, depending on your habit, of course.
For a $79 pledge to the kickstarter you can get one of the Quitbits as a reward. Check out their video for more info on the product. Also, if you decide to use this product or any other you have seen here on SlipperyBrick comment and let us know how it works, we would love to hear some real customer reviews!
fitness tracker, quit smoking, quitbit