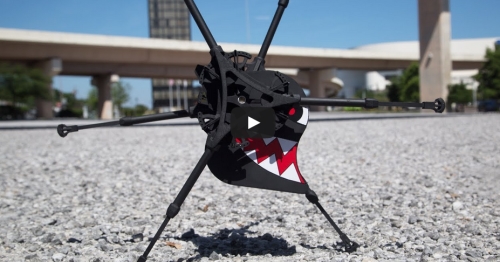 This is definitely not something we'd want to see running at us, because unless you're Usain Bolt this thing is likely going to catch you. OutRunner is a robot being developed by Robotics Unlimited, boasting it as the world's fastest remotely controlled running robot.
This legged robot can clock up to 20 mph on a flat terrain with up to 2 hours of battery life. Robotics Unlimited has a Kickstarter project running to manufacture and sell OutRunner to the public. For a pledge of $249 you can get the unassembled base model that has an hour of battery life and can move up to 10 mph. They'll assemble it and ship for another $50. For $799 you can get the top-of-the-line model. What's also cool is that the base model is upgradeable, allowing you to get in cheap and add components over time like a camera, faster motor, bigger battery or whatever else they come up with in the future.
There's 10 days left on the Kickstarter campaign with a goal of $150,000 to get the project going. Take a look at the video below of the OutRunner, well, running.
via CBS News
outrunner, robotics, robotics unlimited, Robots