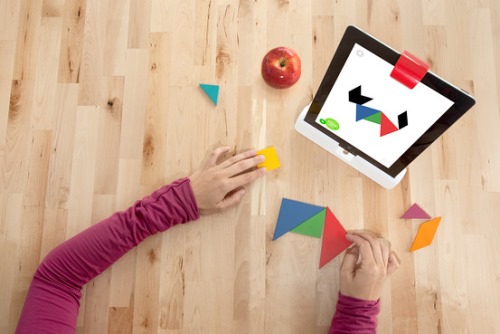 This is for all you parents out there that need to get your kids from staring at their iPads. The Osmo digital toy for iPad will help do just that, bring them back to the real world.
This new device will come with three games, all of which will make your kids want to play and interact with their friends. The games are Tangram, Words and Newton. In Tangram you match puzzle pieces to complete a shape on the screen. While playing Words you can play against another team to spell out a word that matches the picture on the screen. Newton features a ball that falls down the screen through a maze that you choose to draw on the piece of paper in front of the device, or you can lay anything in front of the iPad and it will add it to the maze. They have a great video on their site that shows each game and how it works.
Osmo consists of a base to prop the iPad up and a mirror device that slips over the iPads camera. You can pre-order Osmo for $49 now, which we highly recommend because the price will go up to $99 soon. If you order now, it should ship to you sometime this summer.
Games, iPad, Osmo