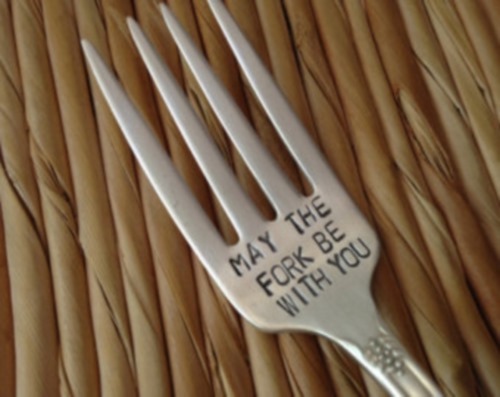 With summer fast approaching (we know, we know, the longest, most brutal winter on record is still going strong), we thought we would post about some summer things, like grilling. Then we ran across the "Lightsaber BBQ Tongs" which inspired us to do some research on what other Star Wars grilling tools there are available, and it turns out there are a lot…….
So here you have it, the Top 11 Star Wars outdoor party/grilling must haves for summer:
11. To start the party off right, there are a number of aprons out there from Darth Vader to Princess Leia. Some of the most popular ones have classic Star Wars quotes on them. Many of these aprons come with matching oven mitts, which is great, but hold off until you see number 8 on our list.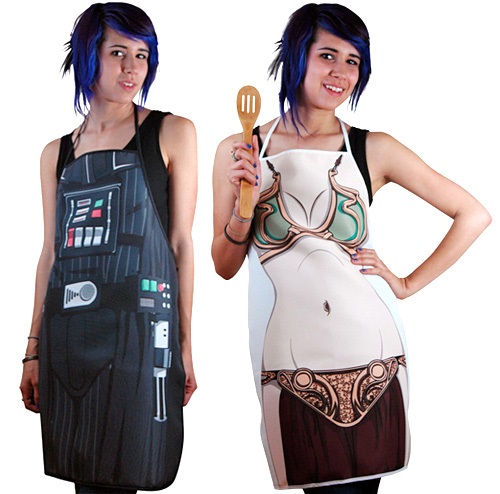 10. This palm-sized Millennium Falcon bottle opener is not only a great way to open your guest's brew, it is a great conversation piece. Maybe even buy extra and hand them out as party favors.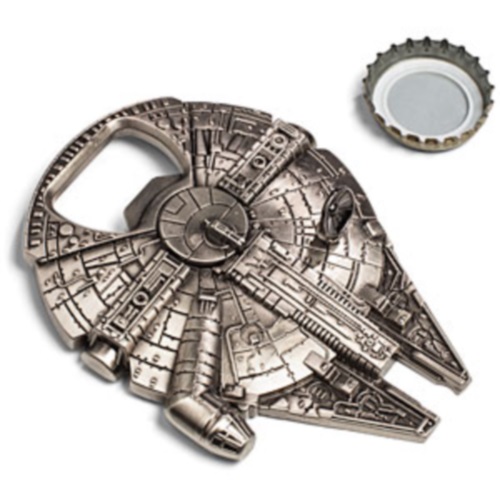 9. Check out these Star Wars Ice Sabers. You can give them out as a cool treat for the kids or infuse your favorite booze for grown ups.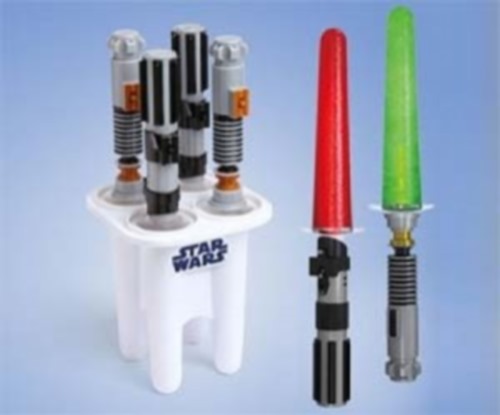 8. As noted above you can get some of the aprons with matching oven mitts, but how freakin' cooler would this Space Slug Oven Mitt be instead. On the outside of the mitt alone it might be hard to identify, but open it up and there is not question you are looking down the throat of a space slug.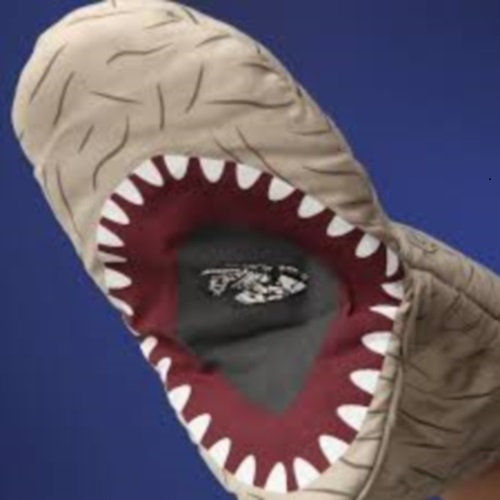 7. There are many Star Wars themed ice molds out there, but this Han Solo carbonite  ice mold is the bomb.  Don't tell your guests about these, let them be a secret surprise. Put them in a crisp clean glass of water on the table at each place setting and see who notices first.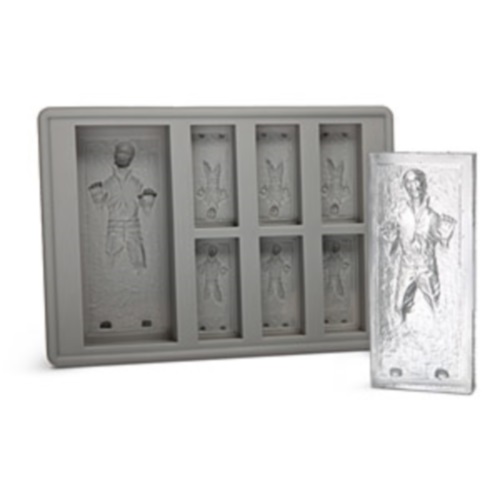 6. Have you ever seen those guys that sit sipping their fancy pancy bourbon with the one ball of ice in their drink? This Star Wars Death Star Ice Mold is perfect for after dinner cocktails. You could even stage your own Death Star catastrophe via ice pick.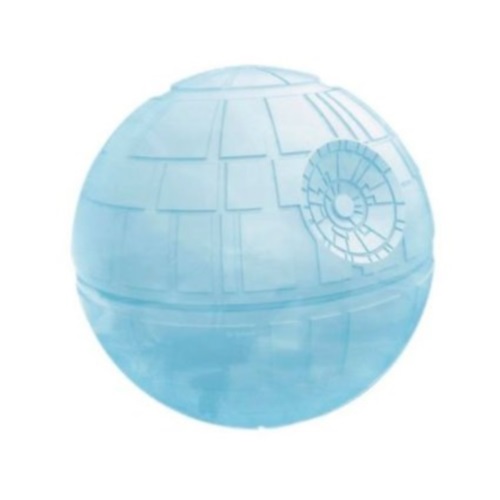 5. Of course you are going to have to have Darth Vader and Storm Trooper Salt and Pepper Shakers on your table. We all have that one person in our lives that puts salt and pepper on absolutely everything on their plate. With these salt and pepper shakers, at least they will look good while laying on the sodium.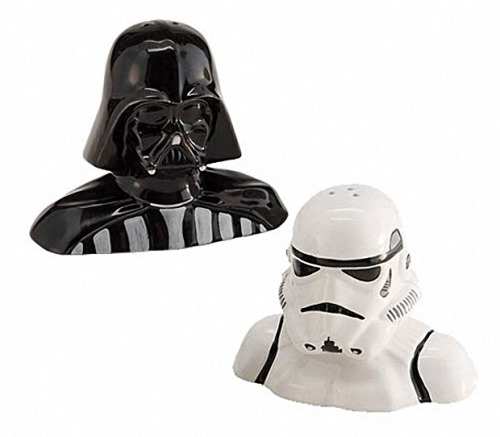 4. It really sucks when you put the hot dogs on the grill and they roll all over the place, this x-wing hot dog griller will solve that problem.  This fast flyer can hold 4 dogs and is easy to rotate on the grill with your space slug oven mitt.
3. This Lightsaber BBQ Tongs will really show your guests who is in charge of this party. Just think about it, standing over your grill everyone admiring all the other Star Wars themed items you have at your party and you are wielding this.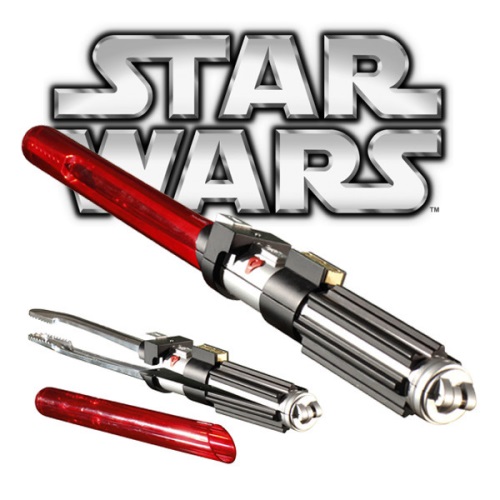 2. The R2D2 Grill we discussed in the past here on the Brick is a pretty amazing and very detailed. You almost feel like you have the real deal hanging out in your back yard. However, our love for this guy might make us wince each time we saw smoke rolling out of the lid.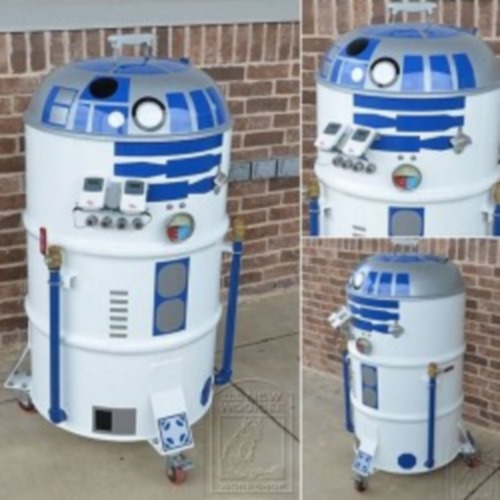 1. Seriously though, do we even need to tell you why this Deathstar grill is our number one? If you have a Star Wars themed summer party this is simply the be all, end all of Star Wars bar-b-que coolness.