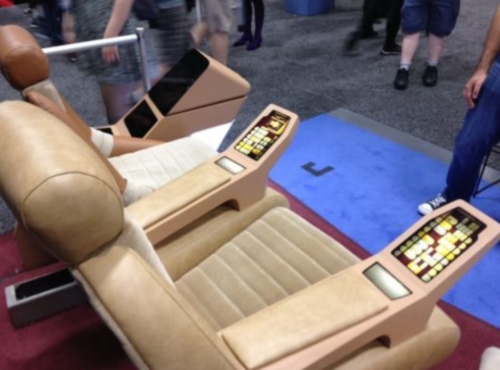 Now, before you get too excited this chair is actually a replica of the original Star Trek's Enterprise-D bridge captain chair. Apparently the original one was a little too worse for the wear and was recreated to go on tour to fan conventions with the rest of the set that makes up the Enterprise bridge.
The captain's chair does have a list of celebrities that have sat in it since its creation including some Star Trek actors, Stan Lee and Weird Al. The chair is being sold because Huston Huddleston, the man who spearheaded the project to rebuild the Enterprise bridge, was not completely happy with some details of the chair's creation and is having a new one built.
Still, you have a chance to get your own 98% correct Star Trek Enterprise captain's chair replica on Ebay right now until the auction ends March 8. At the time of this writing, the current bid is at $4,050 with just five days left!
via Crave
eBay, Furniture, Star Trek