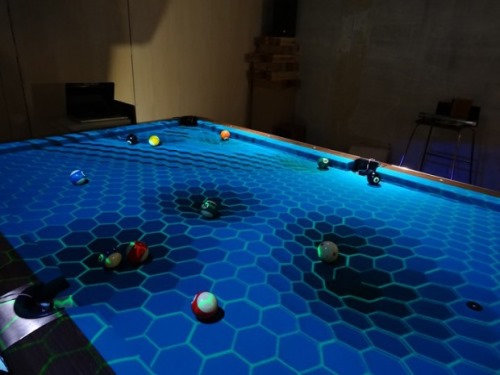 Here is a great addition for your man cave/game room; OpenPool. This new interactive device will make one of  the oldest non-tech games out there extremely high tech and you will have the most talked about game rooms in town. OpenPool takes an otherwise normal pool table and turns it into a hot bed of visual effects. An example of this is shown on their website is called the "Pond" effect, it makes the table look as thought you are playing on water rather than felt.
How this works is through two Kinects, a projector, pocket detectors , and collision detector. The Kinects follow the ball movement, the projector displays the visual effects on the table, the pocket detectors detect when a ball is made into each pocket and displays visual effects, and the collision detector uses a microphone to detect when balls collide to provide a certain visual effect for that as well.
Another really cool thing they have done is made this open source. They have made you the visual effects coordinator for your own game. So sit down, write some code and you have bragging rights to all your friends.
They have started a Kickstarter campaign where you can get one of the full systems for a $5000 donation. Or for a $1000 donation you can get what they are calling a DIY kit which is the software and projector mount.  If you have the bucks to spend on this system and are looking for an addition to you game room, this is the thing to have.
via Technabob
Games, OpenPool, visual effects