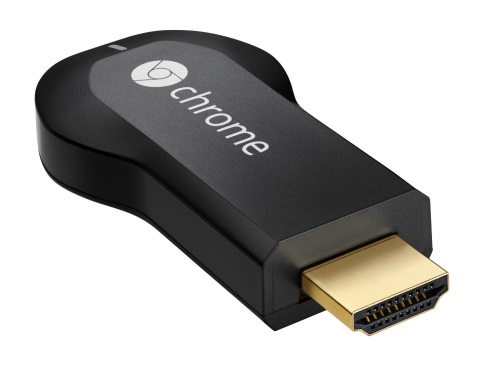 Google rolled out its Chromecast media device earlier this past summer and after using it this fall I'm sorry I didn't get to it sooner. This small device was easy to setup and provided a great solution for viewing my Google Play purchased media on my TV.
The device was very easy to install, simply by installing Chromecast on my Android device and then plugging it into an HDMI port on the TV. the device does need some external power however and comes with a USB cord that can be run from a power outlet or a USB port on the TV (if there is one available). From there the Chromecast software found the device and walked me through a few simple steps to connect it to the internet and get going.
Once setup, users can cast media from their Android phone or tablet, a Chromebook or a computer that has the Chrome browser installed. This is especially handy for those of us with an Android device that does not have any HDMI out ports to share the media. As of the day of this post, Chromecast will cast from Pandora, Hulu Plus, Netflix, YouTube and of course Google Play TV, movies and music.
One of the coolest parts of this for me was the fact that the device does not seem to be streaming the media from the mobile device to the TV. Instead, once the media starts it appears that the media goes straight to the Chromecast device plugged into the TV from the internet, leaving the user free to do other tasks on their computer, tablet, phone, etc.
We've found this device very easy to use and very handy, taking it from room to room for different TV's and even on trips. And, the price is tough to beat at just $35. It even will work on iOS devices but unfortunately will not stream any of media purchased on iTunes.
chromecast, Google, streaming, tv