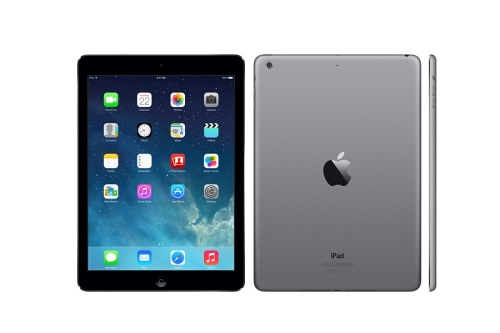 On Tuesday Apple announced the release of its fifth generation iPad mini, named the iPad Air as an offshoot naming of the Macboook line of products, confirming rumors of the anticipated release earlier in the month. The new iPad Air primarily features a new lighter, thinner design weighing in at just one pound and 7.5 mm thick (that's less than a third of an inch to you metrically challenged folks).
Apple has also added in a faster A7, 64-bit chipset, where Apple states it doubles the processor speed with the same battery drain as its predecessor. They've also added dual WiFi antenna's with MIMO, the high resolution (2048×1536) Retina display on a 9.7-inch screen and kept up to 10 hours of battery life.
Apple is releasing the iPad Air November 1st with prices starting at $499 for a 16GB WiFi model up to $929 for a 128GB Wi-Fi plus cellular model, all available in either silver or space gray.
air, Apple, iPad, ipad air