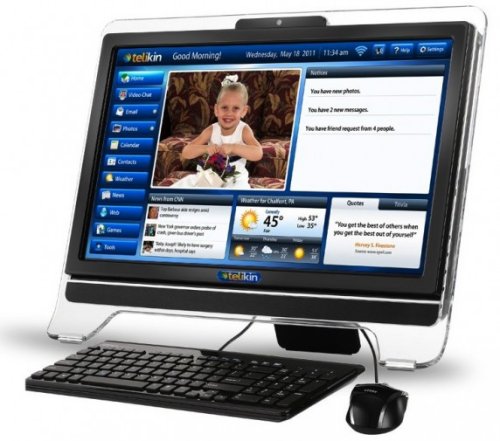 The Telikin Touchscreen PC is a new touchscreen PC designed for less tech savvy seniors. In other words, older people. It's basically an Asus all-in-one PC repackaged with super easy to use, touch based software. Grandma should find this one easier to use. We hope.
Old people sometimes have trouble with things like viruses, firewalls, etc, so Telikin is designed to work out of the box with minimum setup. It comes with Video Chat, Photo Sharing, Email, Calendar, News, Weather, Address Book Web Browsing software and even games like solitaire, blackjack, memory, majong, and photo scramble. The U.I. organizes all of the features into an easy interface.

It features an 18.6″ display, although a black 20″ model is also available, a Dual Core CPU 1.8 Ghz, 2GB SDRAM, a 320GB hard drive, a 1.3MP webcam, four USB ports, and a memory card reader. Just $699.
Telikin, Touchscreen Computer