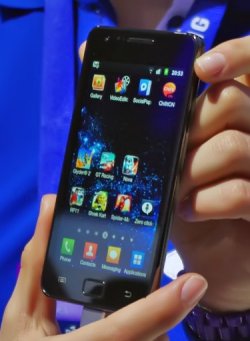 Samsung has to be very happy about sales of their new Samsung Galaxy S II smartphone in Europe and other countries. They have already sold more than 3 million S II handsets, but in the US, Samsung still hasn't released it.
Now it looks like we may have a firm launch date. According to the president of Samsung mobile, Shin Jong-Kyun, the Galaxy S II will arrive in the US in August, but we still don't know an exact date. To refresh your memory, the Samsung Galaxy S II features a 4.3 inch Super AMOLED Plus display, with a resolution of 800 x 480 pixels, and also comes with a dual core 1.2GHz processor, 16GB of built in storage and a microSD card slot.

[GG]
Galaxy S II, Samsung, U.S.