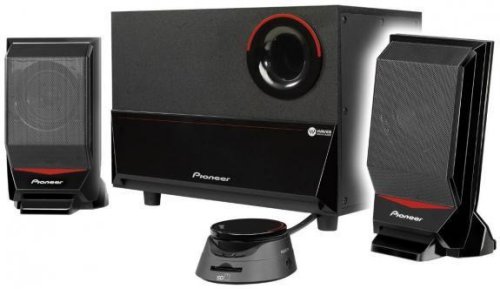 Pioneer making speakers? Yep. The outfit has introduced a 2.0 system (the S-MM301 for $49) and a 2.1 system (the S-MM751RU for $129). The S-MM301 features triple-coil drivers, USB connectivity, metal grilles, built-in controls and a compact design that is good for travel. The S-MM751RU adds a dedicated subwoofer and more power.
The S-MM751RU comes with a remote that allows users to control the volume and play/pause/rewind/forward, you know the drill. It uses Maxx Bass Dynamic Sound technology. The system is rated to handle a total of 40 watts (20 watt subwoofer, 10 watts for each satellite).

Other features include an SD card slot, USB port and a line-in input. Both are available now.
Computer Speakers, Pioneer