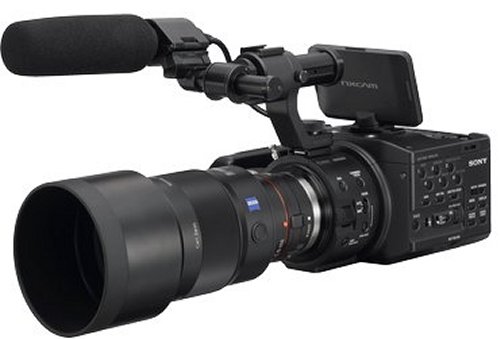 Sony has launched a new professional grade camcorder in the NEX-FS100. The NEX-FS100 is equipped with an Exmor Super 35 CMOS Sensor that is designed for shooting commercials and music videos, as well as action scenes. The sensor shoots 1080p60 content at up to 28Mbps to SD, Memory Stick or an optional 128GB SSD. It can also output uncompressed 4:2:2 footage over HDMI and sports a 3.5in LCD display.
The NEX-FS100E uses the Sony E-mount interchangeable lens system and will also allow for the A-Mount lenses to be used with an adapter. This budget model only comes with the camera body though. The lens kit will cost you extra.

The NEX-FS100 will cost a cool $5,850. No release date yet.
camcorder, NEX-FS100, Sony, Super 35mm