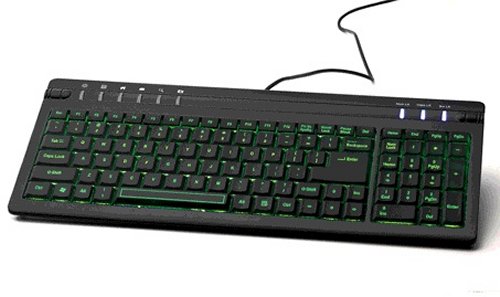 When it comes to computing, the keyboard is pretty boring. Do we even know that it is there anymore as we mindlessly mash key after key? Well, AVS Gear wants to spice up your computer time and let you know that the keyboard is still there with their ZIPPY BL-741 LED backlight keyboard. They sent us a review unit so we could check it out. The ZIPPY BL-741 offers a 512-color level, allowing you to adjust the colors the way you want them.
You can adjust the brightness in dark settings and it consumes low power. You also get triple-color LEDs and an On/Off switch to regulate the backlight atmosphere.

Set up is easy. Just plug the keyboard in and easily adjust any brightness or color you want with a handy function key combined with a few F-keys. Obviously this isn't the most high-end back-lit keyboard you can buy, but you can adjust the settings in a bunch of different ways, so right off the bat you get a lot for your money. Plus it is nice and bright. Great for dark areas.
You can also set it to cycle through all colors if you want a nice light show. As far as actual typing goes, the keys have a nice feel in general and the keyboard features a slim profile. Another great thing about this one is that the grips on the bottom actually keep it in place and it doesn't slide around.
They did a good job with this one. It's perfect for you if you want a back-lit keyboard, but don't need all of your keys to play a youtube video. And it is nice and quiet. We like it and for just $44.99 at Amazon, it's a good buy. It is simple to use, pretty to look at and quality made.
AVS GEAR, backlight, backlit, BL-741, Hands on, keyboard, LED, Review