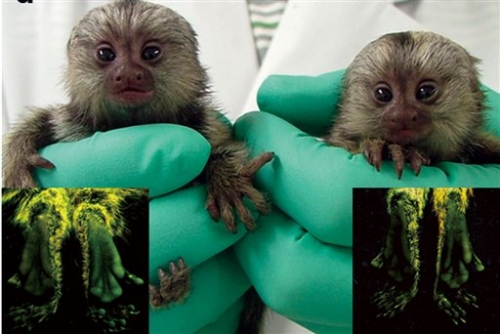 In an article published Wednesday in Nature, researches in Japan reported the successful passing of a transgene from a primate to its offspring, marking a milestone in this type of research. In the study the scientists injected a number of marmoset embryos with a manufactured virus which contained a gene that would be inserted into the animals DNA, making their feet glow green under ultraviolet light.
From the five healthy marmosets containing this feet-glowing green gene, one fathered a male marmoset who was not injected with the DNA, but his feet also glow green under ultraviolet light. This was a significant step for researches since breading monkeys with the DNA is significantly easier than injecting each embryo with the virus to create the gene.
This discovery allows the researchers to more easily produce and study animals with version of human diseases such as Parkinson's disease, Lou Gehrig's disease or ALS, according to the article.
genes, genetics, marmoset, monkey, research, Science