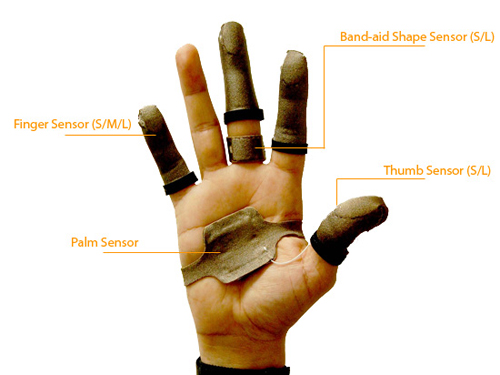 A sensor-based idea first drawn up and tested in the Harvard University Robotics Lab and originally funded by DARPA research grants has now found its way to market. It is called the Pressure Profile Systems FingerTPS and you'll find it pricing around $5,000 for a single-hand system.
The Pressure Profile Systems FingerTPS, as you can see from the photo, places flexible sensors on select parts of the hand to "transmit accurate, repeatable tactile force data to a PC via wireless Bluetooth connection." The maker says this data, integrated with video, "provides a complete representation of user interaction with tools, sports equipment, new
product designs, or medical applications."
This system could be used, for example, to help football players make use of real-time data to "evalutate and improve their performance." It is available now and should make for a fun evening of party time games if you get one.
Pressure Profile Systems FingerTPS
pressure profile systems, sensors