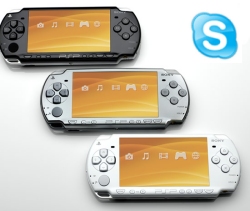 Sony's Playstation Portable handheld gaming console has been trailing in sales to the Nintendo DS since the DS's inception, but Sony is a far cry from giving up quite yet. Last month we saw a pretty cool upgrade with the version 3.80 firmware for the PSP which brought internet radio through the systems WiFi connectivity. Now Sony is saying that they are partnering with Ebay's Skype to bring VoIP Skype phone service to the handheld system.
The new firmware is slated to be available for download to the PSP by the end of January and will add a Skype icon and functionality to the Network portion of the PSP's menu. When connected to the internet users will then be able to log into Skype, manage contacts, view who's online and of course make calls through their PSP to other Skype users or other PSP owners with the Skype feature installed. Owners will even be able to create a new Skype account right on the PSP.
Sony is saying the new Skype feature is "designed" to work only with the newer PSP slim models which is bad news for all of us old-school PSP owners. But, they don't specifically say it won't work with the original PSP models so you can be that this PSP fan will be giving it a try anyway. I'll be sure to let you know how it works out and when the firmware is available, as we know by now that we can usually download the upgrade before its release is announced.
firmware, PSP, Skype, Sony