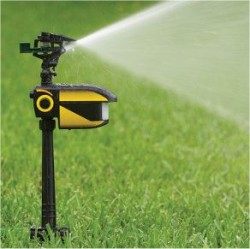 This potentially devious lawn sprinkler is configured with an inline valve that has a motion sensitive trigger which goes off and sends a quick stream of water without warning whenever it sees movement in its 105 degree field of view. It comes with a stake to mount it in the ground and can connect to a standard garden hose, running off a single 9-volt battery which gives it from four to six months of water-armed sentry activity.
The supposed purpose of the motion activated sprinkler is to chase off pesky rodents and birds from the area scaring them with a sudden spray of water. It would also work well to keep unwanted wandering pets out of your yard, but my first thought with this was the fun you could have with neighborhood kids passing by.
The product page doesn't say how sensitive the motion detector is or exactly how far away it can detect motion it can be adjusted for varying sensitivity and for varying spray target heights, say head-high while riding a bike for example.
lawn sprinkler, motion activated