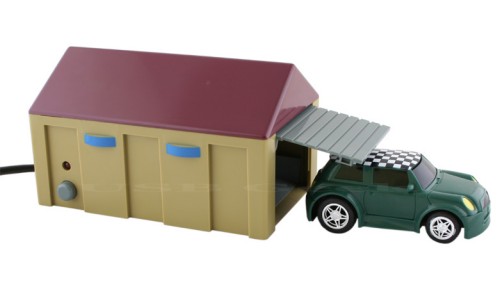 At first glance this noisy little car powered by USB doesn't seem that interesting, but much to our surprise it's actually kind of cool. The USB RC Car is an actual radio controlled car that gives about 5 minutes of remote controlled drive time with a 10 minute charge.
The car comes with a small garage complete with a door that closes which houses the car when it's not in use and also acts as the charger and the wireless transmitter. The garage connects to a Windows XP or 2000 computer through a 4 foot USB cable and transmits 6-way directional signals from an on-screen graphical interface that's controlled with the keyboard.
Seen by the video below from USBGeek, the car can bust out of the garage, make turns and go backwards and forwards along with honking and engine noises as it's driven wirelessly around the desk. The RC car even comes with some personalized decals, priced at $30.