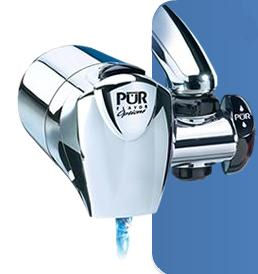 With summer now officially underway you're going to be drinking a lot more to quench your thirst on those hot days. The makers of the Pur water filtration system are offering you an alternative to high calorie sodas and sugar-laden fruit drinks with their flavor cartridge delivery system for the company's filter water jug or water tap attachment.
Now you can pour yourself a glass of filtered, flavored water to beat the heat with no worry about adding on too many calories for your bathing suit to cover. Each cartridge is good for up to 75 servings of its peach, strawberry or raspberry flavored addition. There's no calories in any of the servings and you can even increase the amount of the flavor shot by simply pressing a button on either the tap or the jug.
Both the tap add-on and the jug retail for $29.99 and two packages of the flavor cartridges go for $9.99.