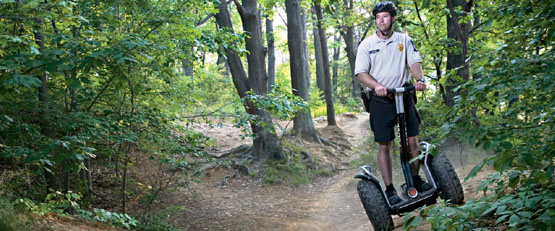 Segway has continued to "move forward" from its original product – the Segway Personal Transport (PT). They now have come out with the Segway Personal Transporter x2. This product is designed to provide enhanced personal transport performance on rugged terrain.
The changes to the Seqway x2 version of the PT from it's original include:
All-terrain low-pressure tires
More robust fender design
Lithium ion batteries
Specially tuned internal software rugged terrain
Increased track width
Aluminum fender frame for easier loading and unloading
New Leansteer technology
Versions of the Segway x2:
x2 Police – includes accessory bar for mounting lights and sirens.
x2 Adventure – has handlebar bag for water bottle and other items.
x2 Golf – comes with a golf bag carrier attachment.