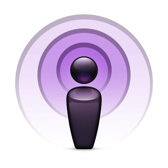 When I first heard of podcasting, I immediately figured it had something to do with the iPod and something to do with radio, but when I looked into it this really isn't the case. Although you can listen to podcasts with the iPod and get them from iTunes, you can also listen to them with almost any other similar device, and you can get them from many, many sources. It just so happens that the iPod was the most popular hardware at the time and so the phrase was coined.
Podcasts are basically the same medium as any song would be, often an MP3 file, and usually are not songs but are news, interviews, comedy or any other audio distribution.
The Podcast Directory is a great source to find all kinds of different podcasts, and of course if you do have an iPod, iTunes Podcasts is probably your best and most convenient source. The cool thing about iTunes is that you can subscribe to a particular podcast, and iTunes handles the rest. It will always sync up and upload the latest episode of whatever you subscribed to. Also, all of them at iTunes are free!
A neat trick you can do with some audio devices is speed up the playback. Often there are podcast news stories (or books for that matter), that I would like to hear and get through at a faster pace. With the iPod you can play them back at a faster speed, kind of like a quicker download to your brain, and get the info you want in a short time.