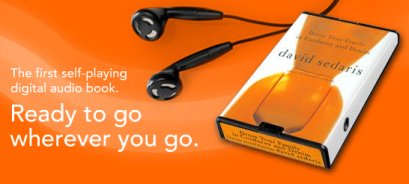 Playaway has come out with the newest version of books on tape. These are actually little, digital books! They are about half the size of a deck of cards, have the cover of the book on one side, and the 8 button player control on the other. It runs off of one AA battery that comes with the device, and if you keep a charged battery in it you can listen to the book as many times as you would like. The Playaway "books" also come with a set of headphones and a lanyard to hang it around your neck if you would like.
These little digital books are available from Playaway's online store, and they are also at a few nationwide retailers, including Borders, OfficeMax and of course Barnes & Noble. Most books price from around $30 to $60 depending on the book, which is competitive to their traditional paper counterparts.
One thing about these Playaway books is that even though they are digital, they are still a physical object. They can be placed on a shelf, given to someone else to listen to, possibly checked out at a library, but are not the traditional file that could easily be copied or posted on the internet for free download.