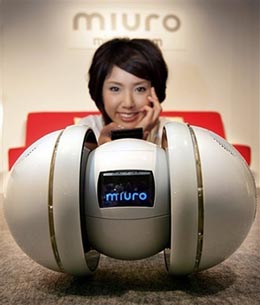 As if the iPOD does not already have enough cool accessories, the Miuro has got to be one of the cooler ones. Miuro stands for "Music Innovation based on Utility Robot technology". Kind of a stretch for an acronym in my opinion, plus the whole web site i not in English, so I'm not sure why the acronym is?
Anyway, this device allows your iPOD to dock into the top of the device and then run on wheels.
The device has speakers built it to project the sound throughout the room, and the "robot" is able to move around the room to the sound of the music.
It has a wireless remote that can operate the Miuro robot, and it has an optional and a sensor which "let the robot map it's position and remember it's routes". I'm not sure what that means, and since the web site is in a language that I do not understand for the most part, I'll keep watching for more information on this.
Despite my limited languages, the Miuro looks like it will be a pretty sweet gadget to further the integration with music (and the iPOD) into your day to day life.