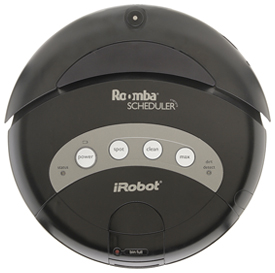 I would have to say that vacuuming is my least favorite housecleaning activity. Like most people, I spend a lot of time away from my house and I don't always have the time to clean when I am home. The problem is that I like to have a fairly clean house with minimal work when I do get home. Thankfully I can get a robot to do my cleaning for me.
The iRobot Roomba Scheduler Vacuuming Robot with Intelli-Bin is the latest vacuuming robot innovation from iRobot. This new, sleeker model offers all the features of the Roomba Scheduler, plus the added benefit of Intelli-Bin. Intelli-Bin takes the guesswork out of when to empty Roomba's bin. An indicator light lets you know when your bin is full.
Go ahead and check vacuuming off your to-do list.